Who We Are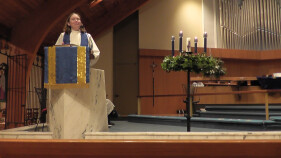 St. Dunstan's is an Episcopal Church of around 250 families, within the Diocese of Virginia, and part of the Anglican Communion. The congregation started in the late fifties, and built the current church building in the sixties. We welcome you to come worship with us in our enhanced environment. In October 2016, we celebrated 60 years carrying out our mission: "To build and strengthen relationships among God and God's children, through Christ our Lord".
St. Dunstan's has a small staff, and a lively volunteer corps. Everyone has something to contribute, and all are valued for their ministry. We are a warm, welcoming, child-friendly community church. We aspire to being even more inclusive, intergenerational, diverse, and spirit-filled.
The office is open Monday through Friday from 8 a.m. to 5 p.m. during the winter and 9 a.m. to 4 p.m. in the summer. Please feel free to contact the Rev. Stephen Shepherd, the parish rector, or the Parish Administrator, at (703) 356-7533.
St. Dunstan's is also pleased and proud to serve as host to a number of community groups and organizations, including Boy Scout Troop 652, Cub Scout Pack 1867, and the McLean Youth Orchestra.